Read the first part
The planning commission meeting last April 12, at Pagosa Springs City Hall, drew a decent audience, many of whom rose to their feet at the start of the meeting to publicly cheer for the creation – thanks to government attendance. – more housing for the workforce.
What turned out to be the subject of three proposals awaiting the Commission's eventual approval: a "P3" public-private partnership between the city government and Servitas, a Texas-based company specializing in development of student accommodation – and perhaps, in the future, in the development of workforce accommodation.
The three proposed subdivisions would be located along or near Apache Street at the south end of downtown Pagosa Springs, within walking distance of High School, City Hall, Yamaguchi Park, Seeds of Learning Early Childhood and Pregnancy Aspire. support center. To name just a few nearby amenities.
Among those who spoke encouragingly to the Commission at the start of the meeting: Dr. Rhonda Webb, CEO of Pagosa Springs Medical Center; Mary Jo Coulehan, CEO of the Pagosa Springs Chamber of Commerce; Veronica Medina, candidate for county commissioner; local developer Andre Redstone; Emily Lashbrooke, Executive Director of the Community Development Corporation.
A sort of "who's who" of our community leaders, you might say.
Here is a sample of the testimony, taken from Dr. Webb's brief speech on the employee crisis in the healthcare industry, locally and nationally.
"We are having a lot of trouble hiring. There are many reasons for this in health care; Part of that is because many people have dropped out of health care because of the pandemic.
"But having housing for our workforce is essential for us. For paramedics, for nurses. Every week someone turns down a job offer because they just can't afford to live here. So…"
Dr. Webb let her voice trail off, but what she meant was clear. Our community must find ways to fight the greed and selfishness that is pushing America's real estate markets into the stratosphere and causing people to turn down jobs at the hospital, water district, county jail, to the police department, to our retail stores and restaurants…because they can't afford to live here…
Can a small rural town like Pagosa Springs really solve this problem?
Do we need to turn to people in Texas – people like Servitas – to help solve this problem?
Here are a few words from the testimony of developer Andre Redstone, addressing the six commissioners seated on the dais.
"I would say, based on my personal experience, and being on the verge of offering an initiative specifically focused on making accessible and affordable housing for the workforce. We worked our system; we continue to work on our program; we continue to work our team. But under the auspices of the collaboration, we weren't invited into the inner circle to talk about it.
"So this represents an opportunity, a mutually reciprocal opportunity, that we as a private sector may need to do more, to open up and engage.
"Conversely, our local leaders have the opportunity to do more, to really engage with us.
"I look forward to this collaboration with you, and the important role you play…"
Mr Redstone was not the only member of the audience to suggest that our local construction industry needs to get more involved in fixing a broken housing and property market, heavily biased towards homes and high-end, expensive vacation rentals.
We then heard from City Manager Andrea Phillips a lengthy overview of the crisis and the past and future role of city governments in addressing the issue.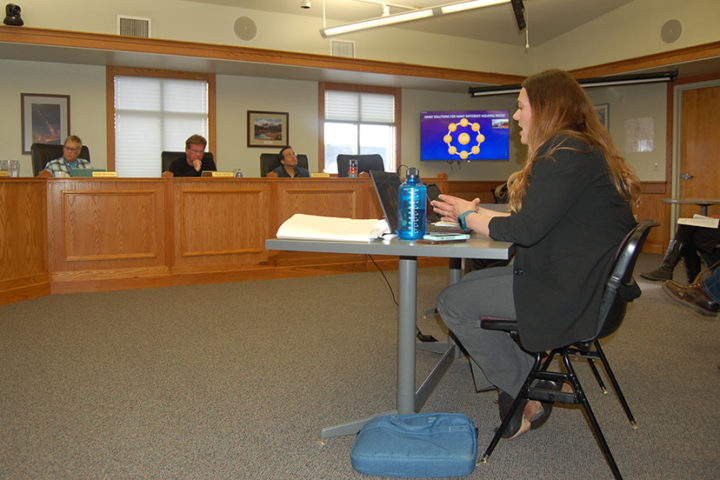 In my opinion, the city government has been much more active and innovative than our county government – ​​in its attempts to seriously address housing inequality. The three proposed Apache Street projects, which have been negotiated with Texas-based Servitas over the past six months, are by far the most ambitious labor housing projects I have heard of.
64 units of one-bedroom and two-bedroom apartments, as proposed, would total more multi-family housing units than have been built in Pagosa in the past 20 years.
The focus on smaller, one-bedroom units — 42 of the 64 units are one-bedroom in current plans — reflects a few demographic trends in America and around the world.
Young people entering the labor market are most often single and have no children.
According to a recent report by MAST Center Research, age at first marriage has reached an all-time high in the United States, echoing a steady increase over the past few decades. The median age at first marriage in 1970 was around 23 for men and 21 for women…compared to around 30 for men and 28 for women in 2018.
As the age at "first marriage" has increased, the proportion of young people under 24 who are married has decreased. In 1968, about 40% of young adults aged 18 to 24 lived with a spouse, compared to only 7% in 2018.
At some point (and no doubt in part because of the reluctance to marry), America's birth rate dropped over the past decade.
Official US birth data recently released for 2020 showed births have been declining almost continuously for more than a decade. For every 1,000 women of childbearing age (15-44), 56 gave birth in 2020, down from 70 in 2007…a 20% drop. The "total fertility rate" – an estimate of the average total number of children a woman will ever have – fell from 2.12 in 2007 to 1.64 in 2020.
Rates have come down further, I believe, as the pandemic has continued.
The total fertility rate is now well below 2.1, the value generally considered to be "replacement fertility" – the rate necessary for the population to replace itself without immigration.
Meanwhile, total annual immigration to the United States has also plummeted since the start of the Trump administration.
Hence the need for one-bedroom apartments, for young single people without children.
The question that most interested this journalist during Tuesday's debate was:
'How much will Servitas end up charging rent, for a new one-bedroom apartment?'
Because…well, isn't that the key number, during a workforce housing crisis?
Read part three, tomorrow…
Bill Hudson
Bill Hudson began to share his opinions in the Pagosa Daily Post in 2004 and cannot break this habit. He says that in Pagosa Springs, notices are like vans: everyone has one.