With the Fed trying to control inflation at all costs and showing no interest in bailing out investors, traders will continue to look for cracks in the US economy this week. US housing data will hit the calendar Tuesday and Wednesday at 14:00 GMT, while the Fed's preferred core PCE inflation report will provide additional consumer detail on Friday at 12:30 GMT. The king US dollar has shown itself to be resilient to recessionary risks so far, so it might barely react to the data.
Recession Watch
The slowdown in the US housing market brings back memories of the Great Recession of 2007-2009, but there is some confusion about whether this is a wake-up call for the current economy. New home sales have been trending lower so far this year and the August reading is expected to mark a new low of 500,000 from 511,000 previously, the lowest in six years. Pending home sales expected on Wednesday could show a steeper contraction of -1.4% vs. -1.0% previously, remaining negative for the third consecutive month.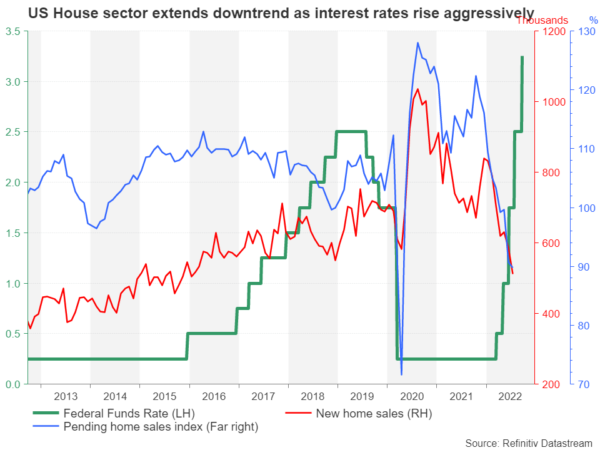 The lockdown took home sales to a 13-year high, but the upward trend came to a halt after the government ended pandemic-related subsidies and the Fed began raising rates interest in the face of rising inflation. With the average mortgage rate for a 30-year loan jumping to 6.29% recently and major real estate companies raising prices by 50% in the second quarter, households are reluctant to expose their finances to more expensive loans. Of course, selling existing homes could increase profits, but buying a new property at a significantly higher interest rate would reduce those benefits.
A stabilization in the scorching rental market in August, possibly due to state-imposed limits in some areas, was also likely a catalyst for weaker housing demand. However, more than half of renters are still facing high year-over-year prices and given the inflation in building materials as well as the limited supply of homes, there is little chance of a significant market slowdown.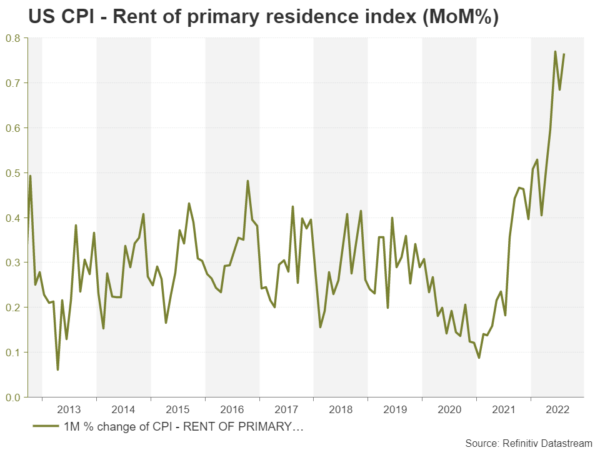 Eyes on consumption
The strength of the labor market is also a tailwind for the real estate sector, delaying any loan defaults. The personal income and consumption numbers accompanying Friday's PCE core inflation could provide updates on that front. Although a slight monthly recovery is expected to 0.3% and 0.2% respectively, the indicators may not raise concerns if they remain at normal levels. A potential uptick in core PCE inflation to 4.7%y/y wouldn't be anything new either after a similar pace in the reading of core CPI inflation.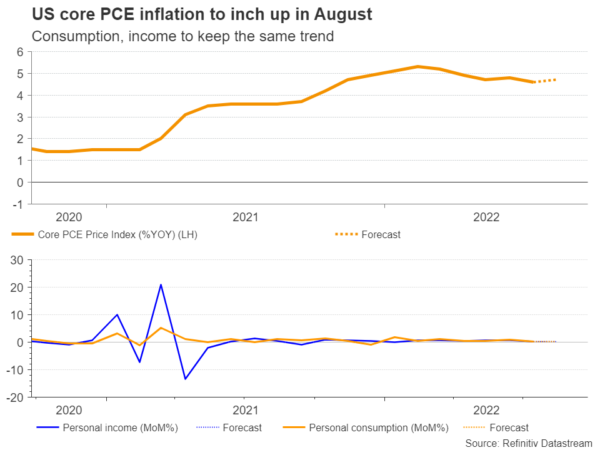 Fed comments matter more
Therefore, unless a significant negative deviation from the forecast occurs, this week's data set may lack the power to shake the Dollar. Obviously, monetary policy is the biggest player in town in global markets. As a result, investors may seem more sensitive to speeches from Fed policymakers in the rest of the week, especially if the comments shed more light on the magnitude of future rate hikes. . Chairman Jerome Powell, along with Charles Evans and James Bullard will comment on today's events, while James Bullard, Loretta Mester and John Willams will follow later in the week.
USD/JPY
Looking at the charts, all eyes are back on the 144.95 dollar/yen high after the full recovery from last week's low at 140.34. Although the continued depreciation of other major currencies is fueling speculation in favor of a coordinated Japanese-style foreign exchange intervention against the greenback, any fall could be short-lived as long as the United States magnetizes investor interest by leading monetary tightening and thanks to their relatively safer geopolitical policy. and economic conditions. The Fed will need to step up its hawkish tone if it aims to hit the 1998 high at 147.71 this week.
Alternatively, a surprisingly conservative call could see the pair test the round level of 144.00 ahead of the 20-day simple moving average (SMA) at 142.78. Still, only a freefall below the July high at 139.39 would ruin the market uptrend.